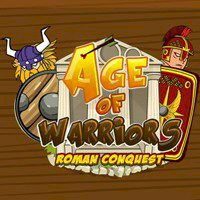 Age of Warriors Roman Conquest
Help the Romans to save their motherland. There are so many foes, and they are everywhere! Brrr! Use all your skills and thinking abilities to make this Empire the most powerful. Be sure that you will cope with such a difficult task. Buy new soldiers and miners and be the winner. Good luck to you!
We offer you to move to the ancient world, and exactly to the roman Empire. They were ruled by Caesar is spilled by vikings, who want to overthrow the roman empire, the barbarians no longer support the Romans and are planning to attack the heart. As you understood, in this game you will have to think strategically. However also several roman cities are overthrown by barbarians taking as prisoners roman legionaries. You can buy miners, who will bring you enough coins to buy new soldiers and equipment. Try to protect your land at any rate and you will be thanked! Have much fun and vanquish this game.